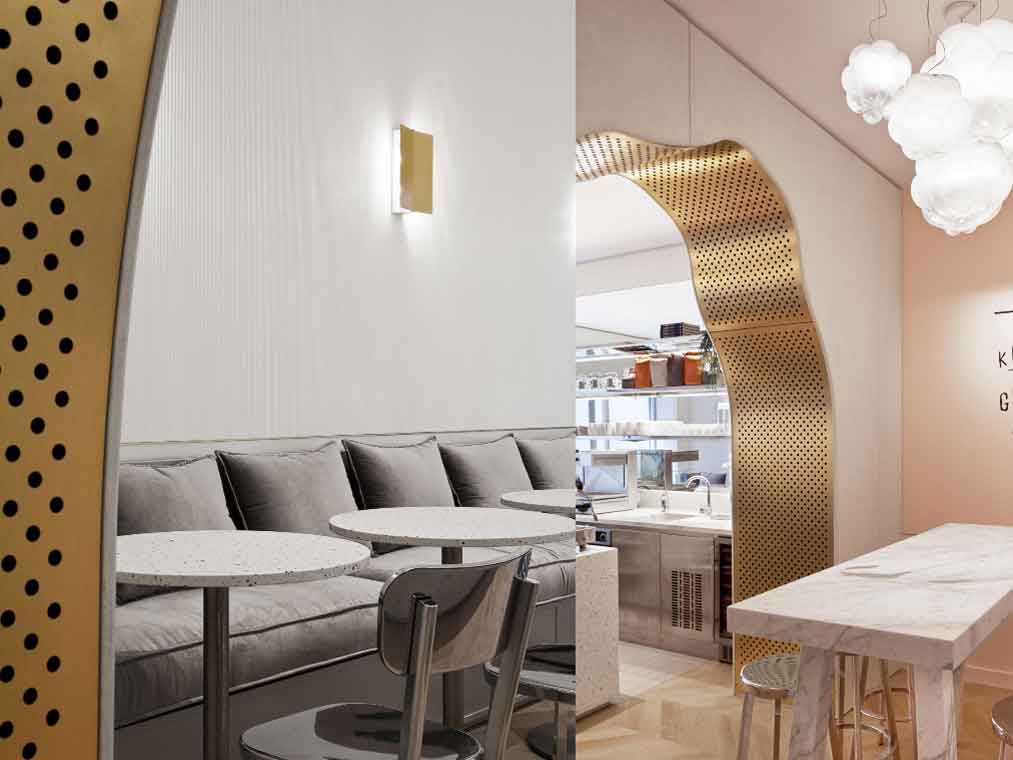 There is no doubt that Parisian chefs take their cooking seriously, especially when it comes to those offering up gluten-free meals.  Just read the writing on the walls in Frédérique Jules' second Parisian restaurant Noglu, where the words, "Keep The Gluten Away", are clearly etched upon the powder pink walls decorated by the talented French designer, Mathieu Lehanneur.  Restaurant, bakery, take-away and catering are all on the menu in this chic little cantine situated in the heart of the 7th arrondissement in Paris.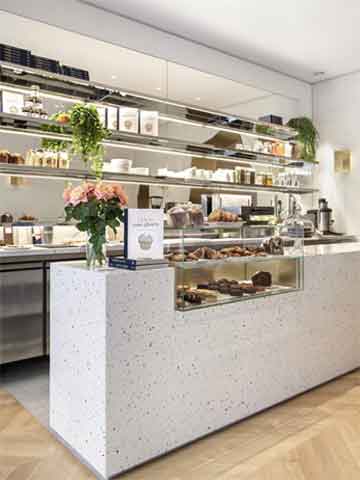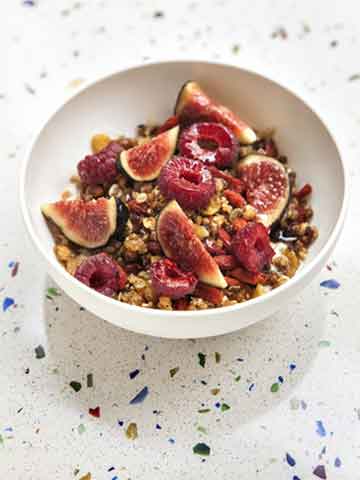 The presentation at Noglu is minimalist chic, in pale shades of grey and rose, adorned with elegant touches of gold and marbled countertops, not to mention the magical cloud-shaped pendant lamps that fall from the ceiling like raindrops, designed by Mathieu Lehanneur himself.  The plush velvet couch that serves as a bench in the bakery is the perfect place to relax and enjoy a healthy breakfast or a gourmet coffee break.  Pass beneath the golden arch that conjures up a cavernous image of the past, an intentional reminder that, "We are primitive beings that have become civilised. We come from the cave and the cave is never very far when it comes to questioning our origins or our intentions", according to the designer.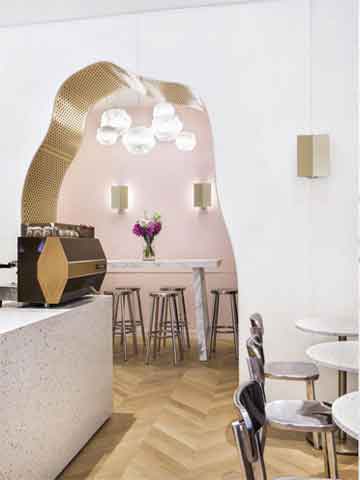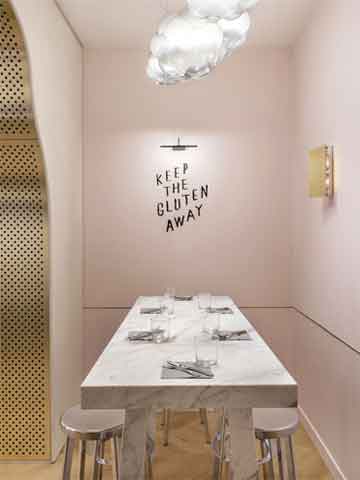 (Photo Credits: Michel Giesbrecht)
The food is what attracts the crowds at Noglu, often requiring a reservation for the few tables that exist, with a seasonal offering of farm fresh, locally sourced products that serve as the base for all the dishes, but the decoration is definitely an advantage.  The no nonsense commitment to a gluten-free gastronomy is not just a quirk, it is a true philosophy that's taken very seriously by the founder and her clients.  Gluten-free guests comes for the creative array of freshly inspired dishes to sample, yet there are a staple of feel-good items on the menu featuring plates of lasagna, the famous French croque-monsieur and even a hamburger for those who may crave a more copious collation.
Heavenly Design at No Nonsense Noglu
69 rue de Grenelle  75007  Paris  M Rue du Bac
www.noglu.fr