The retro chic trend continues to catch on in Paris as renowned Michelin-starred chef Jean-François Piège inaugurates his latest culinary creation at Clover Grill. Located right behind the Louvre, Clover Grill specialises in classic grilled meats, chicken and fish served up with Jean-François's traditional French twist. A relaxed, unpretentious environment sets the scene for a casual meal in cool company. Jean-François Piège is known for his love of home-cooked meals and he brings his incredible culinary talent to the table by preparing sophisticatedly simple dishes using only the highest quality ingredients.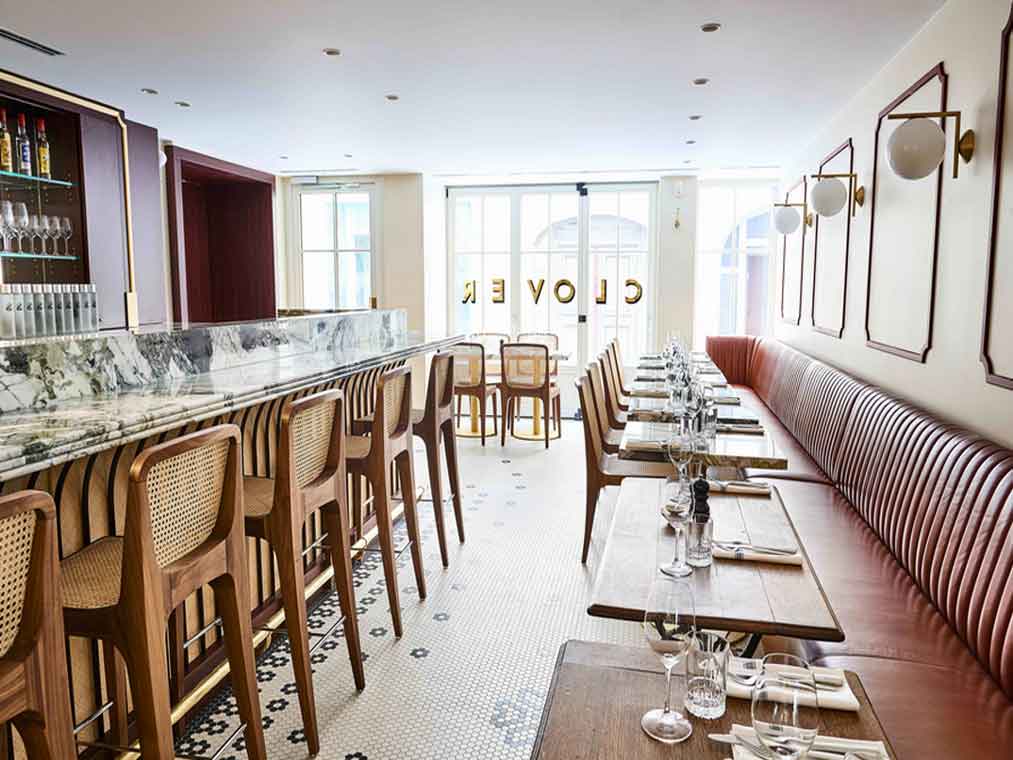 Steak aficionados will be pleased with the trio of tastes coming from Australia, the North Baltic and even a prime Angus from the United States, those who love a great Gigot d'Agneau will find it served spicy with garlic and espelette pepper, the traditional Steak Frites is always a good choice, as well as the Roasted Free-Range Chicken, and last but not least, there's even a juicy burger for the true traditionalist. Fish lovers may choose from a selection of fresh catches or opt for the shrimp or lobster, all grilled to perfection. The starters are slightly more elaborate than the main dishes, with a selection of Foie Gras, Pizza Soufflé and a delicious Celery Rave, but equally as eclectic as the desserts, choice between pineapple, banana, a smoked chocolate tarte and Churros, however the wine list is interesting and the cocktails are curated by the bartenders from The Experimental Cocktail club.
Imagined by his wife Elodie and himself, this charming little bistro-style restaurant is spot on in when it comes to the decor as well, cleverly mixing the typical utilitarian tiled-floor of the traditional bistro with the more high-end touches of the vintage globe lights and the spotlight chandelier. The color-block wall of the bar is saturated in a deep burgundy tone, creating a contrast between the long marble bar of organic green and black accents, the wooden bar stools in upholstered wicker cane and the dark caramel coloured leather bench that runs along the entire wall. The wooden bistro tables in the bar are traded for marble topped tables in the back room, the dark wooden frame of the doorway tempers the contrast between the retro inspired floral wallpaper and the organically inspired marble, while the beveled Art Deco mirrors add the finishing touch to create an atmosphere of Parisian chic.
Retro Chic Comfort at Clover Grill
6 rue Bailleul 75001 Paris M Louvre-Rivoli
www.clover-grill.com